Posts for tag: Missing Teeth
By Carl H. Tegtmeier, DMD
March 31, 2019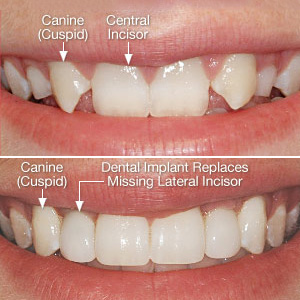 When you look at the top row of a normal smile, you'll see symmetrical pairs: the central incisors in the middle, flanked by the lateral incisors and the canine (or eye) teeth on the outside of them.
Sometimes, though, teeth may not form as they should: in fact, it's one of the more common congenital defects with one in five people having missing or deformed teeth, often the upper lateral incisors. In the latter case, it's not uncommon for the eye teeth to drift into the missing lateral incisors' spaces next to the central incisors. This creates a smile even a layperson can tell is off.
There is a way to treat this with orthodontics and cosmetic dentistry that will transform that person's smile while restoring better mouth function too. It's often a long process, however, that's best begun early and must be precisely timed with dental development.
Using braces, we move the drifted teeth back to their proper positions, which will make room for a future dental restoration. It's usually best to begin this treatment during late childhood or early adolescence. The next step is to fill the newly-created space with prosthetic (false) teeth.
Dental implants are an ideal choice since they're durable and life-like, and won't require permanent alteration of adjacent teeth. They do, however, require a certain amount of bone volume at the site to support them; if the volume is insufficient we may have to place a bone graft to stimulate new growth.
It's also best not to install implants until the jaw has finished development, usually in the late teens or early adulthood. In the interim between tooth repositioning and implants we can customize a retainer or other removable appliance with a false tooth to occupy the space. This not only enhances the smile, it also prevents the repositioned teeth from drifting back.
These steps toward achieving a new smile take time and sometimes a team of specialists. But all the effort will be rewarded, as a person born without teeth can have a new smile and improved oral health.
If you would like more information on treating dental development deficiencies, please contact us or schedule an appointment for a consultation. You can also learn more about this topic by reading the Dear Doctor magazine article "When Permanent Teeth Don't Grow."
By CARL H. TEGTMEIER, DMD
October 02, 2018
Do You Need Dental Implants?
There are several restorative procedures that can help rejuvenate and strengthen your smile, but dental implants are the best. If you're interested, Dr. Carl Tegtmeier can provide dental implants in Mount Kisco, NY.
The Dental Implant Procedure
Dental implants are one of many restorative procedures, like dentures and bridges. Dental implants consist of several parts:
A titanium post inserted into the jawbone
A screw that secures an abutment
A crown matching the rest of your teeth
Your Mount Kisco dentist surgically inserts a titanium post into your jaws to replace your missing tooth root. It provides stability and strength while preventing any weakening or shrinkage of the jawbone. After inserting the titanium post, the dentist seals your gums and allows 3 to 6 months for osseointegration (connection) to occur. Following this period, your dentist re-opens the area above the titanium post, inserts a screw, places an abutment above the screw and secures a crown on top that matches the rest of your teeth.
The Advantages to Dental Implants:
They restore bite and chewing function
They restore cracks, chips, or fractures one tooth, a few teeth or all of your teeth
Dental implants don't move while you're eating or speaking
Dental implants can last a lifetime
They fill gaps to give you a wider, fuller smile
Preserving Your Implants:
You need to take proper care of your dental implants. Here are some things preventative measures:
Receiving fluoride treatment and using fluoride-containing products like toothpaste and mouthwash
Avoiding tobacco, smoking, and drinking too much coffee and tea
Drinking fluoride-containing water, to prevent issues like gum disease and tooth decay
Getting professional dental cleanings and checkups every six months to remove hardened plaque
Flossing at least once before bed
Brushing your teeth for at least two minutes twice a day, while holding the brush at a 40-degree angle
If you have more questions or concerns about dental implants, call your Dr. Carl Tegtmeier's office in Mount Kisco, NY, at (914) 241-2069.